The path to your dream bike...
A seamless connection between man and bike – the rider is the specification, their STYLE, their body. The bike is the result: geometry, material, parts. You are the rider, you want the best bike. It all starts with the frame: it's as LIGHT as it needs to be, it FITS perfectly. You can see the weld seams, the workmanship and you know: this is your frame, the CENTERPIECE of your bike. The components and parts: only the best is good enough. Everything about it is right, it fits you and gives you confidence and control. Your bike is the perfect combination of the best parts. Your bike is made with HEART AND SOUL because you're going to ride it with heart and soul. It doesn't follow fashion, it follows your demands.
Conversation
People take centre stage. A personal exchange on requirements, desires and preferences is essential. With our knowledge and experience, we can then jointly recommend the right model and the components to go with it.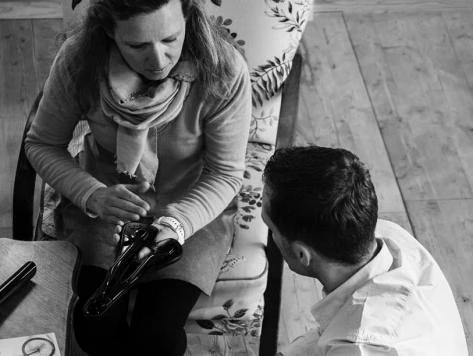 Fitting
A special laser measurement module enables contactless body scanning. This registers your body measurements and your muscular status. A bike simulator is used to make a motion analysis which helps with determining special physical parameters. Based on the data collected, the geometry of the bike and flexible aspects such as the size of the frame, height of the saddle, inclination of the saddle and sitting position are adjusted to fit you. A perfect bike fitting should prevent pain occurring in your back, buttocks or fingers and should improve your performance.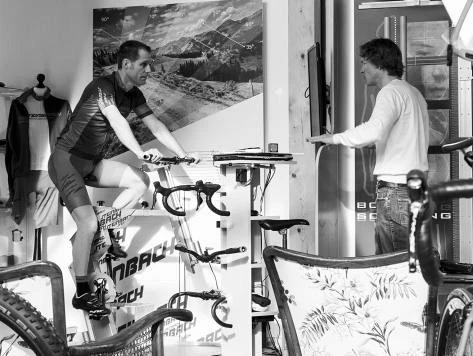 Individual painting
Give your bike a personal look too. You can choose from over 700 RAL colours as well as special metallic colours and more than 80 decorative colours. Whether it's to be sober or ostentatious, shiny or matt – that's your decision. Every bike is powder-coated / painted in the colour of your choice, decorated accordingly and varnished.
Your bike, your name. Name your bike and make sure that visually it also looks like your own unique specimen.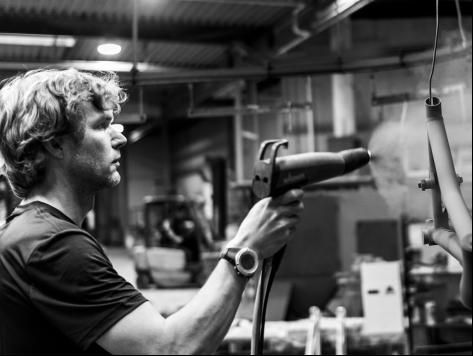 Configuration
All components such as the gears, brakes or handlebars are individually put together. For different configurations, we can offer the following alternatives: the reliable Steinbach HIGH-END uses high-quality components and sensible component suggestions. The PREMIUM version goes a step further, using the best components. Thus we give an insight into how our prices are structured. There are countless options in making the final choice of components to be used.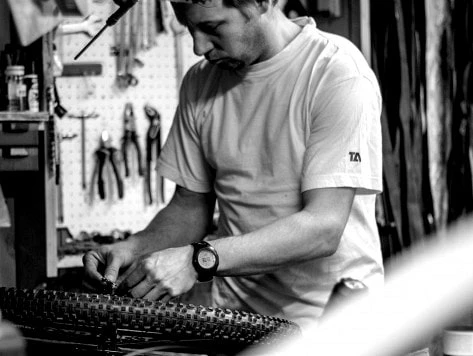 Experience
Become one with your bike and feel at ease.
When a sportsman feels unlimited confidence in their tools, that means we have together created something unique. This is of immense significance. That's why rider and bike must be in complete harmony. Regardless of whether the tour takes them over hair-raising trails across country or on a switchback to the next peak on their racing bike.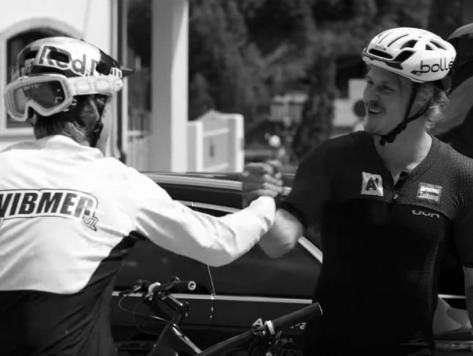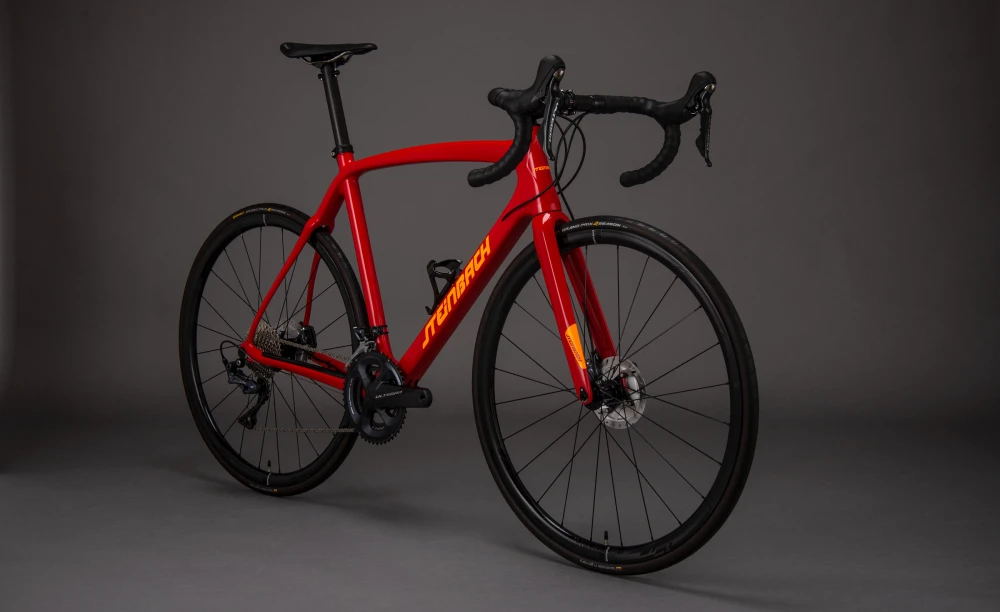 Steinbach
Racing bikes
Shockingly light, fast and slimmed down. That's our racing bikes. They are tailored to your body down to the last millimetre. Choose yourself between carbon or classic aluminium magnesium, between electronic gear-changing or cables and from a variety of high-quality components.
Systematic lightweight construction is also prioritised in the e-bike segment. The lightest e-racing bike weighs 8.5 kg, ready to race and honestly measured.
Steinbach Mountain bikes
Safely and comfortably across country – uphill or downhill. From lightweight full suspension models, via hardtails to pedigree uphill rigid fork racers, you will find everything the mountainbike heart could desire. Think outside the box and then put it into practice with perfect technology. An uncompromisingly upright, relaxed sitting position, optimal ratios, high-quality materials, minimalist design and maximum technology.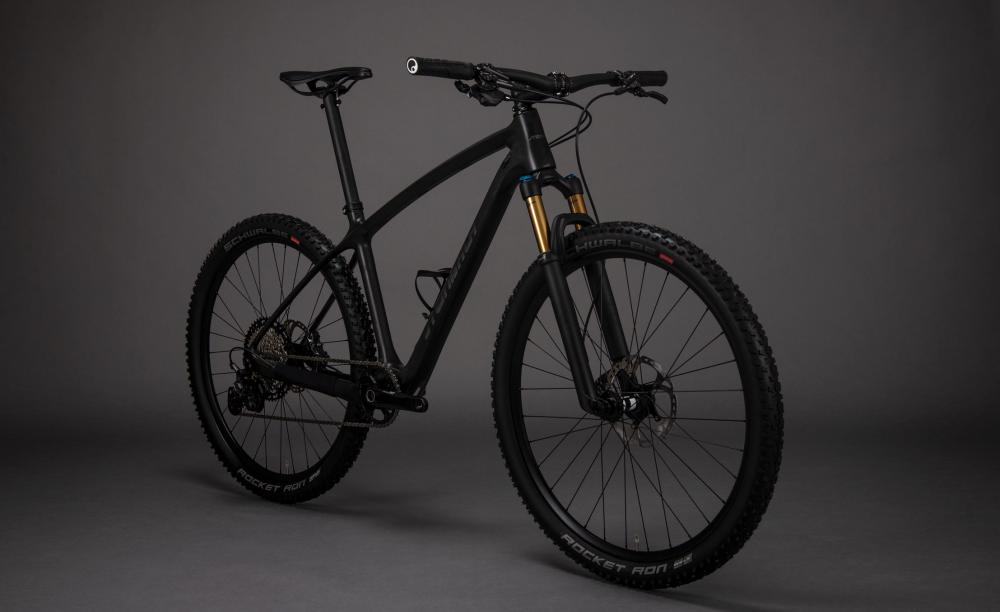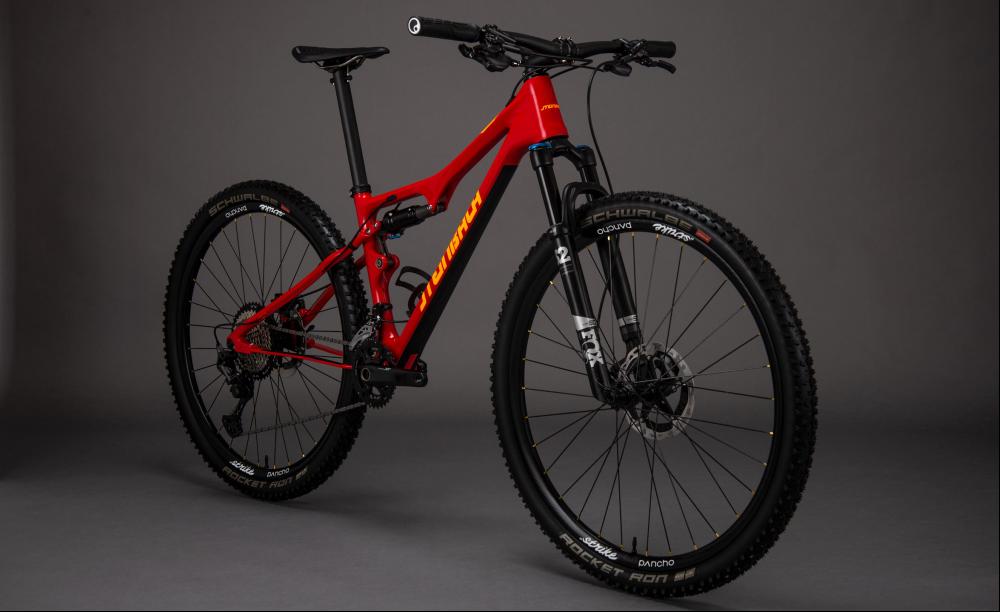 Steinbach Hybrid e-bikes
You just need that last drop of strength for that demanding mountain climb or ambitious round trip. A built-in climbing aid will give you support and amaze you. Inconspicuous and quiet, extremely light and well-conceived. We make the lightest electric bikes on the market – under 9 kg for racing bikes and starting at 11 kg for mountainbikes, ready to race, honestly measured and with sensible components.
Steinbach e-bikes
No need to worry about technical details, just enjoy the moment. Even faster, even more comfortable, even lighter, even stronger.
The highest level of lightweight construction, up to 720 watts plus a perfect fit. The finest workmanship in carbon goes without saying, optimised carbon technology reduces the overall weight to a minimum and gives you back that free ride you love. Perfect for those with sporting ambitions.